Independently Fit? Or Dependently Sick?
MEET "BILL"
I'll tell you one thing, Bill is "independently fit."  Bill is a 93 year old WWII Navy Veteran (who, by the way, served on a submarine and did deep sea diving as part of his duty).  While in Arizona, I've had the privilege of talking with him for the past few weeks when I've been at the gym to work out.  He works out on this equipment every day for 45-60 minutes.
I told him that he was a great example; and now, when I don't feel like going to the gym, I think of Bill and am encouraged to "get with it."  Oh, I didn't tell you that he also had knee surgery three years ago.  The other thing that strikes me about Bill is his positive attitude which shows through with his great smile, quick wit and friendly manner.  Thanks, Bill, for letting me 'spotlight' you.
Certainly, we would all rather be "independently fit vs dependently sick."  This article could be pages long when it comes to describing topics that will help keep us healthy.  But to me, the two I've selected here are very doable without being complicated.
EXERCISE for FITNESS
I found a great website called Helpguide.org.  It's full of information about many health-related topics, but more specifically as it relates to this article about exercise and healthy eating.  The following is quoted from their article: "Exercise and Fitness as you Age."  I encourage you to check it out. 
"As we grow older, an active lifestyle is more important than ever. Regular exercise can help boost energy, maintain our independence, and manage symptoms of illness or pain. Exercise can even reverse some of the symptoms of aging. And not only is exercise good for your body, it's also good for your mind, mood, and memory."
The couple you see as 'shadows' in the photo?  More recently, both have been through serious surgeries at different times.  And, they do not let that stop them.  They will both tell you that God has seen them through all of this.  Walking not only gives them time together, but they get exercise in at the same time.  They are great role models to me.
"No matter your age or your current physical condition, you can benefit from exercise.  Reaping the rewards of exercise doesn't require strenuous workouts or trips to the gym. It's about adding more movement and activity to your life, even in small ways."  I love the following 'Myths' provided in their article:
"Five Myths about Exercise and Aging:   
There's no point to exercising, I'm going to get old anyway.
Older people shouldn't exercise. They should save their strength and rest.
Exercise puts me at risk of falling down.
It's too late. I'm already too old to start exercising.
I'm disabled. I can't exercise sitting down."
I saw this older woman while I was out walking near our home in Portland.  She doesn't let having to use a walker keep her inside.  There she is getting her exercise.  Another great example to us all.
EATING HEALTHY
As stated in helpguide.org:  "for adults over 50, there are many benefits to eating healthy which include improved mental acuteness, more energy, resistance to disease, higher energy levels, faster recuperation times, and better management of chronic health problems.
As we age, eating well can also be the key to a positive outlook and staying emotionally balanced. But healthy eating doesn't have to be about dieting and sacrifice. Whatever your age, eating well should be all about fresh, colorful food, creativity in the kitchen, and eating with friends."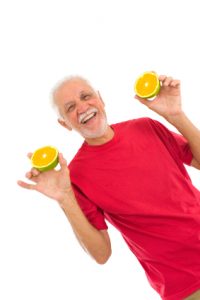 In the article about eating healthy as you age, they provided some tips for staying the course of eating healthy.  Check the article for the details.
 "Tips for Staying on Track:
Ask for help.
Variety, variety, variety!
Make every meal 'do-able.'
Set the mealtime mood.
Break habits."
SO….WHAT DO YOU THINK?
Is it Independently Fit? Or Dependently Sick?  Pretty obvious isn't it?  Here are a few thoughts:
We need to make a plan.
Take 20-30 minutes out of each day to exercise.
Eat better than we do now.
Remember, that no one will do this for us.
We have to take responsibility to take care of ourselves. Then we can do more for others when needed.  Whether we are caregivers now, or might be in the future, our goal should be to remain independently healthy and not dependently sick.    So, what are we waiting for?
https://seniorcareorganizer.com/wp-content/uploads/2015/02/photo-2-large-with-edit.jpg
960
1280
admin
https://seniorcareorganizer.com/wp-content/uploads/2013/05/Logo-for-website-10-20123-300x125.png
admin
2015-02-25 18:38:10
2017-08-08 14:35:27
Independently Fit? Or Dependently Sick?