Get the 'Story' and Meet the Author Behind the "Senior Care Organizer"
I have had the privilege of meeting four authors who have written some wonderful books about their personal experiences with Alzheimer's.  I highly recommend their excellent Blog: alzauthors.wordpress.com.  I had the privilege of contributing an article on 12-14-2016.  I'd like to share it: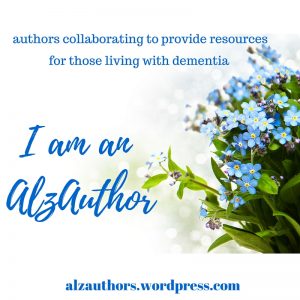 "Caregiving is not for wimps:" Mom had been falling much too often.  Then I heard from a visiting relative that in order to safely come up the stairs from the basement of their home, Mom and Dad had to sit on a stair and scoot up one at a time.  Answers needed.  Mom was diagnosed with Parkinson's.  Dad was fairly stable with his previous stroke.  But it was time to make some changes.
"Ducks in a Row?"  Did I have my "ducks in a row" when it came to starting the process of taking care of my parents' needs?  I did not.  Did they?  No.  And you might think that a nurse would know exactly what to do, but that wasn't the case.  I learned as I went along.
And I learned a lot.  I remember collecting pages of information which held answers to questions that I had asked.  I learned about senior care professionals who can help find living locations, or guide you in care management.  I found out that my parents didn't have the needed documents e.g., health care directive; power of attorney.  And I had to search for important papers that were well hidden in their home.
The ten years of "hands-on" experience as a parent caregiver was the main impetus and inspiration for creation of the Senior Care Organizer which is a "hands-on" guide for collecting and organizing the necessary information to manage senior adult care.  My goal was to provide a resource for others who are or would be going through my experience.  I thought…..Why should they have to "reinvent the wheel?"
My parents may not have had Alzheimer's, although in her last year of life, Mom did acquire the Parkinson's form of dementia; but they are good examples of the importance of getting things in order as soon as possible.  Especially once things change or the diagnosis has been made.
The Senior Care Organizer will help you, as a caregiver, do that very thing.  (And in addition, for those healthy seniors, it will help you set up your own plan for future care needs).  It provides an easy method and plan to get organized, identify resources, learn about what to do first, how to do it, and where to go to find specific help.  It comes in a 3 ring Notebook format or in a downloadable interactive PDF format that can be saved and revised on your computer.  You can see a Preview of some of the book's contents on the website, or with the Look Inside feature on Amazon.
So whatever caregiving challenges may be ahead, don't forget there are others who can help you and resources to support you.
"Hardships often prepare ordinary people for an extraordinary destiny"
C.S. Lewis
Bio
Claudia Rumwell is a registered nurse, educator, author and patient advocate who has worked with seniors for over 40 years.   In 2008, as a result of advocating for her parent's changing health care needs for 10+ years; she shifted her nursing focus to the area of senior care.   In addition to consulting, she enjoys providing workshops that focus on senior care topics.  In addition to updating the Senior Care Organizer, currently in its 4th edition, she updates the Links/Resources and publishes monthly educational articles in the Helpful Articles section of the Website:  www.seniorcareorganizer.com; and posts articles and other links on Facebook: You can also find her on Twitter.
https://seniorcareorganizer.com/wp-content/uploads/2017/01/sco_fbcoverphoto_2016_09_26.png
321
832
admin
https://seniorcareorganizer.com/wp-content/uploads/2013/05/Logo-for-website-10-20123-300x125.png
admin
2017-01-27 15:02:02
2017-05-19 22:48:29
Get the 'Story' and Meet the Author Behind the "Senior Care Organizer"