Picnic in the Park… with the 'Colonel'
My Mom, who had Parkinson's, couldn't go out to restaurants any longer due to the difficulty in walking very far, even using the walker. In addition, it was also hard for her to get into the wheelchair.
She really enjoyed eating out, so when I made my monthly trips to see her, I made sure we went for a "picnic in the park."
This was so much fun. Now, I had to prepare a bit… the first time I didn't bring anything to protect her clothes while she ate; I mean we were eating in the car, so napkins alone didn't cut it (for either of us, actually).  But, after doing it once, it became a "slam dunk."
You may find yourself needing to figure out something fun to do with your aging parents, spouse or a favorite senior who can't get around like they used to. If so, you might find this fun and easy to do.
Here's an account of our "Picnic in the Park with the Colonel."
•  Set the date
•  Grabbed some towels and a wet washcloth on our way out (since Mom lived in an extended care facility, I got an OK to do this from the nurse).
•  Oh, made sure to have a plastic bag to put the used towels into.
•  Once in the car, we headed to Colonel Sanders' Kentucky Fried chicken. Mom's favorite, along with mashed potatoes, gravy and biscuit.  (Ice cream came later)
•  Next… to the Park. We found a location where Mom could also view the kids playing on the playground equipment. She loved kids!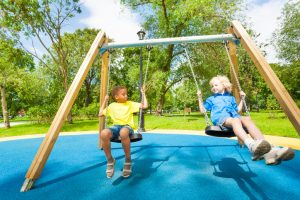 •  I got everything set up: towel over her lap and across her shoulders; food in place, glass of Coke in the drink holder and then she "went for it," and so did I.
•  Who cares that there was chicken and crumbs all over the place? We didn't. We had so much fun eating, talking, laughing, and watching the little kids play.
•  After 30-45" or so, I could tell Mom was getting tired so we would head back. But, she enjoyed every minute of it, as did I.
As I watched her enjoy every bite of chicken, I thought back of all the special things she (and Dad) did for us when we were growing up.
We may not have had a lot of money, but we didn't notice; and there sure was a lot of love to go around. I am so thankful for these memories with Mom in her last couple of years of her life.
So, if you need an idea for an outing with an aging parent or other senior in your life, take it from me… having a "Picnic in the Park with the Colonel" (or with 'Ronald McD,' or others) is a lot of fun. Enjoy!!
"In the end, it's not the years in your life that count. It's the life in your years."
Abraham Lincoln
https://seniorcareorganizer.com/wp-content/uploads/2019/06/iStock-458666461-med.jpg
836
1254
admin
https://seniorcareorganizer.com/wp-content/uploads/2013/05/Logo-for-website-10-20123-300x125.png
admin
2019-06-03 10:37:28
2019-06-03 10:44:39
Picnic in the Park… with the 'Colonel'